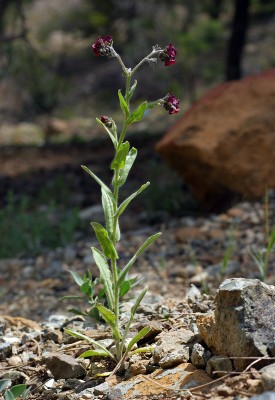 Status
Indigenous (IN)

Classified as introduced to Cyprus by Sutorý (2016) but the argumenation seems to be rather speculative. Several other doubtlessly indigenous taxa have been discovered in the Troodos area even much later. Furthermore, the taxon is more widespread in the region than outlined by the cited author and in some places certainly not adventive.
Systematics
Taxonomy and nomenclature following Sutorý (2016).

Sutorý K. 2016: New names in the 'Cynoglossum montanum group' (Boraginaceae) in the Mediterranean area. – Edinburgh J. Bot. 73: 265-275.
Chromosome numbers
A.
R. Hand, Supplementary notes to the flora of Cyprus VIII in Willdenowia 45. 2015