Systematics
On data necessitating separation of Podospermum from Scorzonera see Greuter & Raab-Straube (2006).

Greuter W. & Raab-Straube E. von 2006: Euro-Med Notulae, 2. - Willdenowia 36: 707-717.
Chromosome numbers
A.
R. Vogt & A. Aparicio, Chromosome numbers of plants collected during Iter Mediterraneum IV in Cyprus in Bocconea 11. 2000
Distribution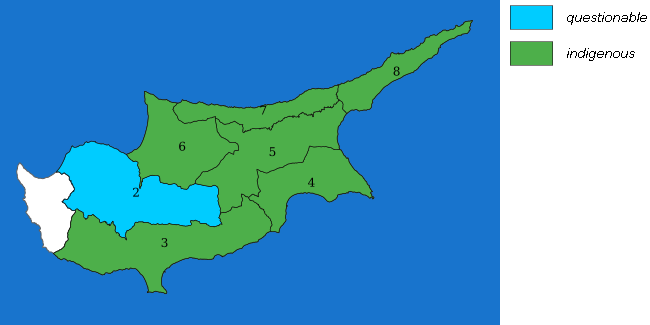 Division 2
‒

questionable
B
B.

R. D. Meikle, Flora of Cyprus 2. 1985

,

C.

A. Della, Flora of a valley in the Pendakomo area in Agric. Res. Inst. Minist. Agric. Nat. Resources Cyprus Misc. Rep. 52. 1992

,

D.

R. Hand, Contributions to the flora of Cyprus I. in Willdenowia 30. 2000

,

E.

G. Alziar, Compte rendu du 4ème Iter Mediterraneum in Bocconea 11. 2000
Altitudinal range
F.
R. D. Meikle, Flora of Cyprus 2. 1985